"Abigail's Party" – IT'S BACK!!!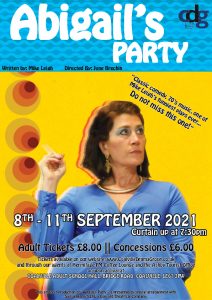 Directed By: June Brechin
Dates: 8th – 11th September 2021
After a long year of lockdowns we are finally getting back to normal and as such, we are overjoyed to announce the return of the Coalville Drama Group's presentation of Abigail's Party.
To all those who had previously purchased tickets, please make sure you hold onto them as they will still be valid and as an additional bonus we are pleased to say that you can use the ticket on any performance night that you wish, you will not be limited to the same night you originally purchased the ticket for.
Since Lockdown a lot has changed for many of us and the Cast of Abigail's party has been no exception. While we would love to fling open the door and usher you all in, we have had to do a little recasting and rehearsals are currently underway to get us all back into character and give you the First Post-Lockdown Play that you deserve.
We would like to take the opportunity of thanking everyone in advance for coming along to the show to support us. We really look forward to seeing you all.
Cast List
Tracy Quigley as Beverly Moss.
Bill Hinds as Laurence Moss.
Lindsay Poole as Angela Cooper.
Ben Cooper as Tony Cooper.
Jayne Massey as Susan Lawson.
LEAVE A REVIEW:
Abigail's Party
Average rating:
2 reviews
Sep 13, 2021
Abigail's Party, by Mike Leigh, is a classic play that has delighted and 'appalled' audiences for over 50 years. Having seen the play several times and been directly involved in a production, the Coalville Drama Group's production must definitely rank as one of the best I have ever seen. For a small theatre, they gave a big performance. The debuting director, June Brechin, certainly got the best from her small cast and every actor deserves praise. Tracy Quigley, who played the obnoxious, oversexed housewife, gave a faultless performance. Bill Hinds provided a very convincing and solid performance, playing Tracy's dispirited husband, Laurence. The night's biggest laugh was for Lindsey Poole's character, the hapless Angela, when she displayed her dancing skills. The rather unpleasant character of Tony was played skilfully by Ben Cooper. Lastly, Jayne Massey's superb performance of Susan was a great lesson on acting without words. Plaudits to the team behind the set design and construction, which was a perfect reconstruction of a 'trendy' 1970's home. Props, soundtrack, and costumes were also straight from the era. A thoroughly pleasant evening. Congratulations to everyone involved in the show.
Sep 13, 2021
Abigail's Party was absolutely fantastic! The acting was so professional and top class. Can't wait for the next production! 🙂